Group Tickets

Gather up your group of friends, co-workers, customers, employees or youth sports team and join the Sioux City Explorers in 2023 by bringing your group out to MercyOne Field at Lewis & Clark Park! It's affordable family entertainment for everyone! Groups of 20 or more qualify for discounted ticket prices when you book in advance. With a wide variety of options to make your group outing fun and unique, you can't go wrong!
Our group representatives are here to help you every step of the way to make sure your group outing is an experience you and your guests won't forget. Come out to MercyOne Field at Lewis & Clark Park and enjoy a night of America's favorite pastime with the Sioux City Explorers!

2023 Group Benefits
Per ticket discount for each member of your group based on the size of your group (the more you bring, the more you save, minimum of 20 required)

Recognition over both the PA system and video board

Opportunity to participate in various pre-game and in-game promotions

Opportunity to purchase X's Bucks for group members (prepaid vouchers available in $1 and $5 increments that may be redeemed at the concession stand or X's Team Shop during your night with the X's)

No waiting in ticket lines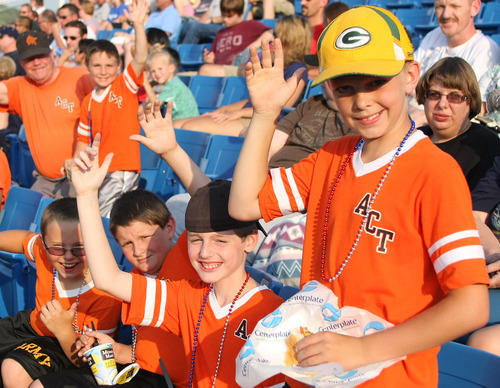 2023 GROUP TICKET PRICING
Box Seating
20+ $12.00 per ticket Fireworks: $14.00

Reserved Seating
20 - 75 tickets: $10.00 per ticket Fireworks: $12.00

76 - 149 tickets: $9.50 per ticket Fireworks: $12.00

150 - 249 tickets: $9.00 per ticket Fireworks: $12.00

250 - 499 tickets: $8.50 per ticket Fireworks: $12.00

500+ tickets: $8.00 per ticket Fireworks: $12.00
Frequently Asked Questions

When should I book my group outing?
In general, you should book your group outing as soon as you decide which game you would like to attend and know where you'd like to sit. This will assure you get the best seats for your group that night. Booking a group outing with us is extremely easy. In fact, you can do it over the phone. You give us the information and we'll set up your event! It's that simple!

What if I need help in making my decision?
Call an X's Representative at (712) 277-WINS. We realize that booking group outings is new to some, that is why we're here to help! We want friends for life, so we'll make sure we create the outing that fits your specific needs. Remember, our job is to assure everyone has a great time.

When do I pay for the tickets for my group outing?
We do require a 25% non-refundable deposit at the time of reservation. The balance and final ticket count is due 48 hours prior to your group outing.

What happens if the game gets rained out?
Not to worry! We'll work with you to reschedule your group outing for another regular season home game in 2023. If you cannot come back as a group, the individual tickets will be good for a ticket of equal or lesser value to any future 2023 game.
If you have further questions or would like to purchase group outing tickets,
please email us at [email protected] or call us at: (712) 277-9467

If you are looking to add some more excitement to your group outing, how about a pre-game meal for your group on the X's Bullpen Party Deck in 2023? We have several menu options for you to select from that is sure to satisfy everyone's taste buds. All orders must be placed a minimum of 48 hours before event date and a 20 person minimum is required. The buffet will be for 90 minutes.

The following meal options are available at MercyOne Field at Lewis & Clark Park:
The Grand Slam Buffet:
Includes choice of (2) main course options, chips, and a cookie
Hamburgers
Hot Dogs
Bratwurst
Pulled Pork
Chicken Strips
Drinks: Water, Lemonade, and Pop
12 oz Draft beer tickets can be purchased for only $1.00 each
Adults: $20.00 Per Person Kids: (10 and under) $15.00 Per Person
Single
$7.00 per person
Hot Dog, Potato Chips, and Bottled Pop or Water
Double
$8.00 per person
Bratwurst, Potato Chips, and Bottled Pop or Water
Triple
$9.00 per person
BBQ Pulled Pork, Potato Chips, and Bottled Pop or Water
Homerun
$10.00 per person
Hamburger or Cheeseburger, Potato Chips, and Bottled Pop or Water
All pricing is based on a per person rate an requires a minimum of 20 people and does not include the price of a game ticket. Reserve your 2023 group outing and picnic at the ballpark by calling (712) 277-9467 or email us at

[email protected]