RESERVE YOUR SPOT ON THE BBQ DECK FOR ANY HOME GAME IN 2022
The X's offer a wide array of group meal options, including the ever so popular Grand Slam Buffet on the Bullpen Party Deck. For only $22 per adult ($15 for kids 10 and under), you can enjoy a night of Explorers Baseball with great food and cold beverages on the Bullpen Party Deck. All of your guests will receive a ticket into the game on the party deck, picnic buffet which includes BBQ Pulled Pork, Chicken Tenders, Potato Chips, Cookies and Lemonade (Draft Beer Tickets may be purchased for only $1). Buffet will be for 90 minutes.
*Minimum of 20 Persons

Food available in THE GRAND SLAM BUFFET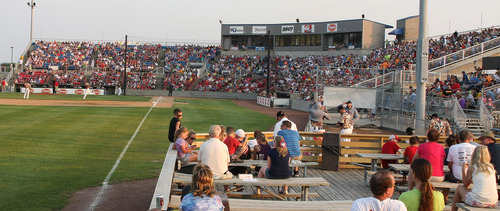 BBQ Pulled Pork
Chicken Tenders
Potato Chips
Cookies
Water or Soft Drink
Pricing
Adult: $22.00 per person
Kids (10 and under): $15.00 per person

12 oz domestic draft beer tickets can be purchased for only $1.00 each.
To Reserve THE GRAND SLAM BUFFET,