03/23/2012 8:46 AM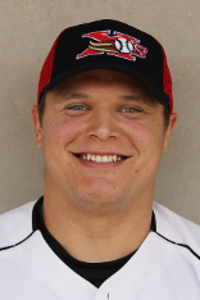 After coming off the best season in his career, the Sioux City Explorers announced today the re-signing of infielder, Wally Backman, Jr. The 2012 season will mark Jr.'s second year with the X's and ninth overall in professional baseball.
In 2011, the 26-year-old Prineville, OR native appeared in all 100 games for the Explorers, compiling a .294 batting average in 398 at bats. Backman led the 2011 squad with 117 hits, which ties him for fifth in the X's record books with former X's player Josh Patton for hits in a single season. He also tallied 17 doubles, 2 triples and 7 home runs, while driving in 62 runs.
"We are glad to have Wally back again in 2012, to anchor down the hot corner," stated X's Field Manager Stan Cliburn on his every day third baseman. "I'm expecting him to step up again and show us the leadership qualities that he brings to the table."
Originally selected by the Texas Rangers in the 30th round of the 2004 Amateur Draft, Backman Jr. spent four seasons in the Rangers system, reaching as high as single-A Clinton of the Midwest League. After being released from Texas, Backman Jr. continued his career in independent baseball. Over his four seasons in independent ball ('08-'09 in Joliet, '10 in Tucson, '11 in Sioux City), the left-handed hitter has collectively hit .278 in 348 games, scoring 164 runs and knocking out 54 doubles, 11 triples, 16 home runs.
As the name implies, Backman Jr is the son of former Major League infielder, Wally Backman, Sr., who won the World Series Championship with the New York Mets in 1986. Backman, Sr. is currently managing in the Mets organization for the Buffalo Bison (AAA) of the International League.
In other news, the Sioux City Explorers have signed rookie OF Michael Lang and rookie OF/1B Lyle Allen. In accordance to league rules, the X's must carry a minimum of four rookies on their roster. Rookies are classified as those who have played one year or less of professional baseball. Lang played his collegiate years at Rutgers University and made the All-BIG EAST 2nd Team his senior season. The strong arm outfielder was one of the best in the conference recording six outfield assists from his corner outfield position. Over his collegiate years, Lang has been regarded as one of the best in Rutgers history, ranking in the top 10 for career triples (t-3rd, 13), hits (t-4th, 229), total bases (5th, 372), runs (6th, 176), doubles (t-7th, 48) and home runs (t-9th, 23). Allen played his collegiate ball at SEC powerhouse, University of Georgia. In two seasons with the Bulldogs, the left-handed hitter recorded 98 hits, 55 runs, 7 home runs and 53 run batted in, while posting a .267 batting average.
|
Back to index...