04/15/2016 8:33 AM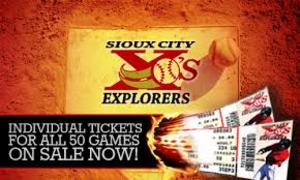 TICKETS FOR ALL 50 HOME GAMES ON THE 2016 SCHEDULE ON SALE NOW
After a record breaking 2015 campaign, the Sioux City Explorers will begin their quest to defend their 2015 Central Division Championship on Thursday, May 19th for opening night of the 2016 American Association season at Lewis & Clark Park. Beginning Tuesday, April 19th, fans will get their first opportunity to purchase single game tickets for the 2016 home opener on Thursday, May 19 and all home games on the Explorers 2016 schedule. In 2016, all Monday – Saturday home games will start at 7:00 PM and new in 2016, all Sunday games will have a first pitch time of 2:00 PM (except the Sunday, July 3rd home game will start at 7:00 PM). Ticket prices for the 2016 season will once again remain very affordable for fans to enjoy Explorers baseball all summer long with Box seats being only $12.00 each, Reserved seats $10.00 each and General Admission tickets are just $6.00 each. Additionally, now is the time to reserve your group outing, as group discounts are available for all (50) home games for groups of 20 or more people.
Single game tickets may be purchased one of three ways: in person at the Stadium Box Office (3400 Line Drive, Sioux City, IA 51106), by telephone (712-277-9467), or on-line at www.xsbaseball.com. Sure to go fast, are seats for the X's May 19th home opener against the Sioux Falls Canaries. Highlighting the night will be spectacular post-game fireworks show by Lantis Fireworks and its Magnet Schedule Giveaway Night, thanks to Wells Fargo Bank.
In addition to fireworks on Opening Night, firework shows are scheduled following the Explorers July 3rd, July 4th and September 1st home games at Lewis & Clark Park. X's replica jerseys, baseball hats, team posters, seat cushions, foam fingers, sunglasses and baseball cards are just some of the special giveaway items planned for the 2016 season.
The Explorers will once again provide the Siouxland community with an array of great money-saving season long promotions for everyday of the week in 2016. Mini and Military Mondays will return in 2016, where all fans 12 years of age and younger and current or retired military will receive a FREE reserved seat game ticket to Monday home games (not valid on Monday, July 4th) on the 2016 schedule!
Two-For-Tuesday returns, all box seat and reserved seat game tickets are BUY ONE GET ONE FREE!! Weiner Wednesday is back for another season to where fans will have the opportunity to BUY ONE HOT DOG and GET ONE FREE at all Wednesday home games. The ever so popular Thirsty Thursday is back, ANY size draft beer or Pepsi fountain drinks are BUY ONE GET ONE FREE!! College Night will also return during all Thursday home games, where all college students showing a student ID will receive a $5 reserved seat ticket!
Weekend Happy Hour (Friday and Saturday) is back on the Bullpen Party Deck to where 12 oz domestic beer and 12 oz Pepsi soft drinks will only be $1 from 6:00pm until the first pitch (7:00PM). Back by popular demand is "FREE SHIRT FRIDAYS" with t-shirts of your favorite X's players to be given away throughout the game at every Friday home game and Souvenir Saturdays returns for a fifth consecutive season to where the first 500 fans through the gates will receive a FREE giveaway item as they enter the gates at Lewis & Clark Park for all Saturday home game on the 2016 schedule! Family Fun Day- Sunday rounds out the week with all family members having the opportunity to purchase a family value package that includes (1) reserved seat ticket, (1) hot dog, and (1) Pepsi soft drink for ONLY $12 per family member (excludes Sunday, July 3rd) Sunday home games be at 2:00 PM and will also feature a special promotion to where all youth baseball and softball will receive a FREE reserved seat ticket when wearing their youth baseball or softball jersey!
Reserve your tickets now to catch all the excitement of Sioux City Explorers baseball in 2016 by stopping down to the stadium box office or by calling the X's at 712-277-WINS (9467) or on-line at www.xsbaseball.com!
VISIT WWW.XSBASEBALL.COM TO VIEW THE COMPLETE 2016 GAME & PROMOTION SCHEDULE
|
Back to index...