04/07/2016 9:01 AM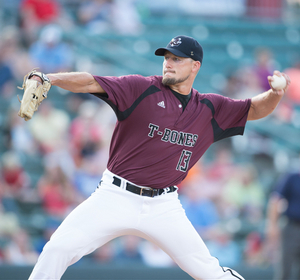 SIOUX CITY, IA – The Sioux City Explorers announced today that the club has added a trio of pitchers by signing LHP Kris Regas and RHPs Jacob Kuebler and Reinaldo Lopez to 2016 American Association contracts.
Regas brings a wealth of experience to the pitching staff, playing 13 seasons in professional baseball including parts of two seasons in affiliated ball with the New York Mets (2004) and Detroit Tigers (2009) organizations. Regas began his professional career playing in the Frontier League for the Cook County Cheetahs for 3 years before being signed as a free agent by the New York Mets in 2004. In 2009, the left-hander played in the Detroit Tigers farm system, including a stint with the Triple-A Toledo Mud Hens.
Regas has spent 5 seasons in the American Association and currently holds the AA careers saves record with 70 saves, and is also third all-time in the league in games pitched (173). Regas' best year came in 2008 pitching for Sioux Falls where he served as the closer on the Canaries 2008 title-winning team and set an American Association record at the time with 30 saves. He was named the Star of Stars Relief Pitcher of the Year going 1-0 with a miniscule 1.29 ERA, racking up 72 strikeouts in 42 innings pitched to only 8 walks.
Kuebler was drafted by the Kansas City Royals in the 17th round of the 2008 MLB June Amateur Draft from Lincoln Southeast HS (Lincoln, NE). He began his professional career as a positional player in the Royals organization from 2008-2012 before switching to a pitcher after being signed by the Mets in 2013. The right-hander reached as high as Double-A with the Binghamton Mets and in three years compiled an overall record of 10-9 with a 3.26 ERA with 142 strikeouts in 75 games in the Mets organization.
Lopez was signed as an international free agent by the Tampa Bay Rays in 2007 as a 17 year old and spent 8 seasons pitching in their farm system making it as high as Double-A with the Montgomery Biscuits. Lopez's best season in the Rays system came in 2013 as a member of the Bowling Green Hot Rods where the right-hander owned a 2.95 ERA with 86 strikeouts to just 33 walks. For his efforts, Lopez was named a 2013 mid-season Midwest League All-Star, pitching for the Eastern Division team. For his 8 year minor league career, Lopez owns a 27-20 record with a 3.45 ERA, recording 302 strikeouts in 493.1 innings pitched.
With the signings of Regas, Kuebler, and Lopez the Explorers now have 7 pitchers and 9 position players signed to 2016 American Association contracts.
The Sioux City Explorers will kick off the 2016 season at home on Thursday, May 19th when they welcome the Canaries from Sioux Falls to Lewis & Clark Park. Get in the game and reserve your seats now by calling 712-277-WINS (9467).
|
Back to index...