03/16/2016 11:14 AM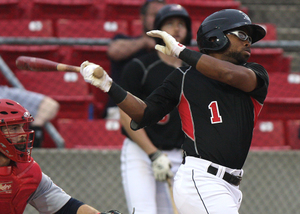 SIOUX CITY, IA – The Sioux City Explorers have brought back another key piece from their record breaking 2015 season by announcing today that the club has re-signed CF Matty Johnson to a 2016 American Association contract. The 2016 season will mark Johnson's 7th season of professional baseball and 2nd with the X's.
Johnson returns to the Explorers following a solid 2015 campaign in which he was tabbed the American Association Defensive Player of the Year. The speedy centerfielder played in all 100 games for the Explorers and did not commit an error in 239 chances (233 putouts and 6 assists). In addition to his superb outfield play, Johnson set the tone at the top of the X's lineup and led the entire American Association with 80 runs scored, while his 424 at bats were also most in the league. The X's lead-off hitter compiled 112 hits on the season, including 6 triples (T-5th most in American Association), 16 doubles, and 2 homeruns, while also producing 38 RBI's. The Omaha, NE resident showed off his speed by stealing 42 bases which were the 4th most in the league. Johnson had an impressive 18 game hitting streak from June 25th-July 12th in which he increased his batting average by 61 points during the hot stretch.
"We're happy to have Matty returning in 2016", commented X's 3rd year field manager Steve Montgomery. "He was the defensive player of the year in the league and we are looking for another productive season this year."
Johnson played collegiately at Bellevue University and was named an NAIA second team All-American and also earned first team all-MCAC honors after batting .429 and stealing 43 bases in his two years there. He went undrafted however and began his professional career in 2010 with the Gateway Grizzlies in the Frontier League where he continued to impress posting a .313 batting average in 47 games while stealing 24 bases. For his efforts, Baseball America named Johnson the 2010 top independent league prospect.
The Boston Red Sox took notice and signed Johnson in 2011 where he split time at their affiliates in Lowell, MA and Greenville, SC and continued to impress collectively hitting .307, collecting 61 hits in 60 games, while stealing 19 bases. In 2012, Matty spent most of his time playing for the Advanced-A Salem Red Sox and in 2013 he continued to rise up in the system as he was called up to the Double-A Portland Sea Dogs and also made a stint with the Triple-A Pawtucket Red Sox. Johnson's final season in the Boston organization came in 2014 where he spent the entire year playing for the Salem Red Sox and in 132 games he led the entire Carolina League in hits (141) and runs scored (104) while finishing second in the league in triples (10) and stolen bases (40).
The 2016 home opener is only 64 days away. Group reservations are now being accepted for all 50 home games, including the 2016 home opener on Thursday, May 19th versus the Sioux Falls Canaries. Get in the game with the X's by calling 712-277-WINS (9467).
|
Back to index...