09/28/2015 2:13 PM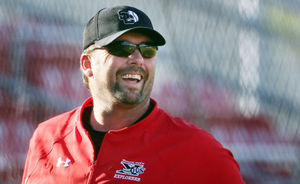 SIOUX CITY, IA – The Sioux City Explorers announced today that they have agreed on a new 9 year contract with Field Manager, Steve Montgomery that will keep the skipper in an X's uniform through the 2024 season.
"Steve has done a tremendous job on the field and in our community from the day he was hired two seasons ago and the future of X's baseball is as bright as ever knowing Steve will continue to lead our franchise for another 9 seasons." commented Explorers owner John Roost.
Under the direction of Montgomery in 2015, The Sioux City Explorers claimed the Central Division Championship with an overall record of 75-25, which calculates to a .750 winning percentage. The X's 75 wins and .750 winning percentage are both new American Association League Records.
In addition, the 2015 X's also set new league marks for road wins in a season (38), stolen bases in a season (188), team earned run average (3.04), earned runs allowed (301), runs allowed (304) , hits allowed (750) and opponents batting average (.228). The X's also boasted the best team batting average in the league with a .292 team batting average. In all, the X's broke (9) American Association league records during their remarkable and record breaking 2015 campaign. For his efforts, Steve was named the 2015 American Association Field Manager of the Year. In his two seasons (2014, 2015) as field manager of the X's, Montgomery has lead the X's to an overall record of 122-78.
"I am extremely excited about our new 9 year agreement. Knowing that I will be here for 9 more years is very humbling and I would like to sincerely thank John Roost, Shane Tritz and Matt Adamski for entrusting me with this position for this length of time. I would also like to thank our fans and the entire Siouxland community for their continued support and I can't wait to get started in preparing for the 2016 season and beyond." stated field manager Steve Montgomery.
Steve and his wife Tania, their son Tephen (11) and daughter Aspen (7) make their home in Lithia, Florida.
Steve Montgomery photo courtesy of the Sioux City Journal
|
Back to index...