12/18/2013 8:50 AM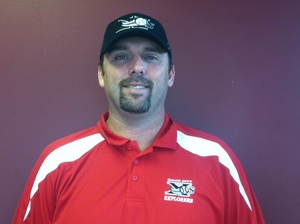 MONTGOMERY NAMED EXPLORERS NEW FIELD MANAGER
New Field Manager Brings Winning Tradition to X's
SIOUX CITY, IA – The Sioux City Explorers announced today that they have hired Steve Montgomery as the teams new field manager for the 2014 campaign, which will mark the organizations 22nd season in Sioux City.
Steve Montgomery comes to the Sioux City Explorers in 2014 after spending the last 10 seasons (2004-2013) as the pitching coach for the Fargo-Moorhead Redhawks. Steve comes from a winning culture, as he has been a part of 9 playoff teams, 3 league championships and his pitching staff has lead the league in ERA in 5 of his 10 seasons in Fargo-Moorhead. He will be making his managerial debut in 2014 and will be the 7th manager in the Explorers 22 year franchise history.
"I am extremely excited to be joining the X's organization and making my managerial debut in Sioux City. I know the amount of interest in this position was tremendous and I would like to thank Explorers owner, John Roost and the X's management team for believing in me and providing me this incredible opportunity," stated Field Manager Steve Montgomery. "I have always been very impressed with the energy and excitement displayed by the fans in Sioux City every time we came to play the Explorers. I look forward to building a competitive roster that our fans will be proud of and enjoy watching. I can assure our fans that myself, our coaches and players will give the fans everything we have night in and night out."
Montgomery's professional playing career began in 1993 when he was signed as an un-drafted free agent by the Kansas City Royals. He played with the Kansas City Royals Gulf Coast League team in Fort Meyers, FL during the 1994 season before signing with the Johnstown Steel of the Independent Frontier League in 1995. Steve appeared in 33 games with the Steel and finished the year with a 0.00 ERA and 9 saves in 38.2 innings. For his efforts, he was signed by the Baltimore Orioles organization and spent the 1996 season in High Desert before playing with the Orioles AA and AAA affiliates in 1997. After two more minor league seasons with the Dodgers and Red Sox affiliates, Montgomery finished his playing career with the Fargo-Moorhead Redhawks from 2001-2003, where he was the team's all-time save leader (47).
Montgomery began his coaching career in 2004 with the Fargo-Moorhead Redhawks and from 2005-2009 he also served as the pitching coach for North Dakota State University. In his 10 seasons as the pitching coach, the Redhawks have compiled a 590-383 record, resulting in a .606 winning percentage during his tenure.
Montgomery is originally from Mecca, OH and now makes his home in Lithia, FL with his wife Tana and their son Tephen (9) and daughter Aspen (6).
"After a very long and thorough process, I am extremely confident that we have landed the best individual to lead our organization on and off the field for many seasons to come," commented Explorers Vice President/General Manager, Shane Tritz. "Steve possesses everything we were looking for in our next field manager. He brings an extreme amount of passion and enthusiasm to our organization, while also being very knowledgeable of our league and more importantly having the knowledge of what it takes to win in Independent baseball. We are very confident in his ability to be able to recruit and sign top tier players, while having a great understanding of how important it is for he and his players to be heavily involved in our community."
Steve will immediately begin to assemble the Explorers 2014 roster and coaching staff, in an effort to bring his winning tradition to Sioux City. The Sioux City Explorers open the regular season on the road versus the Sioux Falls Canaries on May 15th before the scheduled May 17th home opener at Lewis & Clark Park.
|
Back to index...