03/20/2013 10:41 AM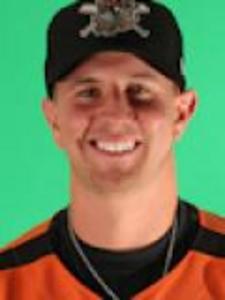 SIOUX CITY, IA – With less than two months until the home opener, the Sioux City Explorers announced today the acquiring and signing of experienced third baseman, Bryan Pounds. Pounds comes to Sioux City via a trade with the Lincoln Saltdogs, for a player to be named later. The 2013 season will mark his sixth season in professional baseball, first in Sioux City.

Pounds spent most of the 2012 season with the Double-A and Triple-A affiliate of the Detroit Tigers, before being released in early August and signing with the Lincoln Saltdogs. The 27-year-old had a rough season at the plate hitting .195 between the three clubs in 94 games. He collected 57 hits, 11 doubles, three triples and seven home runs.

"We are excited to have Pounds in our lineup, as an experienced AA and AAA player, who will hold down the hot corner at third base," commented Stan Cliburn, X's Field Manager. "Last year, he had an off year but is hungry to come into Sioux City and work his way back to the affiliated ranks."

Prior to 2012, the Houston, TX native had strong years with the Tigers affiliates. Statistically, 2011 was Pounds' best year hitting .276 in 119 games with the SeaWolves and Mudhens, Tigers' Double-A, Triple-A affiliates. He combined for 118 hits, 30 doubles and nine home runs, while plating 56 runs and producing 51 runs batted in. Over his career, the right-hander has collectively hit .255 in over 1,600 at-bats with 419 hits, 89 doubles, 11 triples and 29 home runs.

Defensively, Pounds has held down the hot corner of the infield throughout his entire career. In just over 1,000 chances, he has a .925 fielding percentage, yielding only 75 errors at third base. He has produced 212 putouts, assisted in 717 outs, while taking part in 58 double plays.

In other news, the Sioux City Explorers have signed rookie outfielder, Anthony Kaskadden. The 2013 season will mark his first year of professional baseball. He is the third rookie under contract for the X's, who need five rookies per league rules. The 23-year-old played college ball at College of Lake County and Western Illinois University. He was named 'Player of the Year' after his sophomore season at College of Lake County, as well as awarded the Golden Cleats Award for manufacturing 45 stolen bases in 28 games. With Western Illinois in 2010-2011, the right-hander hit .271 in 95 games with 28 stolen bases over the two seasons.

The Sioux City Explorers will kick off their 21st season on Saturday, May 4th when players report for Spring Training. The 2013 Home Opener will be Thursday, May 16th versus the Sioux Falls Pheasants. Season tickets are on sale now – to reserve your 9 Innings of Vacation stop down to the X's Office, located at Lewis & Clark Park or call them at 277-WINS.
|
Back to index...