04/13/2012 3:03 PM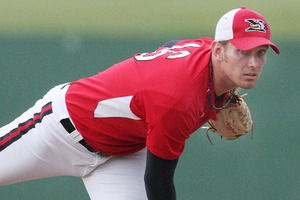 SIOUX CITY, IA - The Sioux City Explorers continue to strengthen their pitching staff by signing two versatile arms, Ty Marotz and Jon Plefka. Both were members of the 2011 staff that ranked fourth in the American Association in pitching.

Returning for his 7th season in an X's uniform, Marotz is the longest-tenured player for the organization. In 2011, the Crystal Lake, IL native saw most of his time as a starter, starting 19 of his 21 appearances. He posted a 6-5 record with a 4.98 ERA in 124.2 innings pitched. Marotz's strikeout to walk ratio was nearly 2:1, recording 74 strikeouts and only allowing 39 walks.
Over the years, the 30-year-old right-hander has been a consistent starter and occasional arm out of the bullpen posting a career 4.37 earned run average. Marotz is currently tied with Chris Swiatkiewicz for most wins in an X's uniform, at 25. He also is at top in the X's charts for game appearances at 128 and innings pitched with 479.2 recorded.
"Ty Marotz returns as a starter for the X's and needs one more victory to become the all-time wins leader for the X's," commented Field Manager, Stan Cliburn. "The Explorers are excited to have him return to the pitching staff."
Back for his 2nd season with Sioux City, Plefka was a late-season acquisition for the X's in 2011. Before his stop in with Explorers, the 27-year-old also pitched for American Association foes, El Paso Diablos and Winnipeg Goldeyes. During the 2011 season, Plefka collectively posted a 4.50 ERA in 50 innings pitched, while registering 42 strikeouts.
Prior to his time with the Explorers, Plefka was drafted out of Texas Tech University by the Los Angeles Angels in the 2006 MLB Amateur Draft, where he spent the 2007 and 2008 season in the Angels' system. The 2009 season was a member of the Bridgeport Bluefish in the Atlantic League. The right-hander limited hitters to a .237 average while posting a 3.26 ERA for the Bluefish. Plefka spent the 2010 campaign with the St. Paul Saints. In 43 relief appearances, the Hartford, CT native went 6-1 with a 2.65 ERA, striking out 55 hitters in 57.2 innings of work.
"The Explorers are excited about the return of Jon Plefka to the pitching staff," mentioned Cliburn. "The versatile right-hander will be used as a spot starter and be a key reliever coming out of the bullpen for the X's."
Collegiately, the 6'8" right-hander spent most of his time on the basketball court versus the pitching mound, playing basketball for Hall of Fame coach Bobby Knight at Texas Tech University. He averaged 19 minutes and 6.6 points a game his senior season.
|
Back to index...