12/19/2011 3:55 PM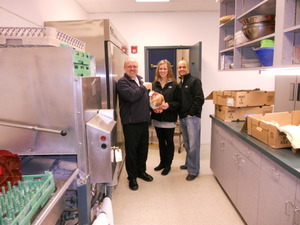 SIOUX CITY, IA –The Sioux City Explorers continued their season of giving with a another successful "Tickets for Turkey's"promotion just in time for the holidays.
The promotion was simple, for every new 2012 Sioux City Explorers ticket package fans purchased, the X's would donate a turkey to the local Goodwill Industries Wall Street Mission and The Salvation Army for distribution to families in need during the holiday season.
"We really appreciate the support of the Explorers and their fans with the 2nd Annual Tickets for Turkey's effort. We will have many families come to us this week in the hope that we can make Christmas a little brighter for them. As a result of this gift from the X's, more families will be able to enjoy a lovely dinner together on Christmas Day. Turkey's for Tickets is walk-off home run on our scorecard." The Salvation Army Corps officer Capt. Von R. Vandiver said."
Today was delivery day for the Sioux City Explorers staff and thanks to the Siouxland Community and X's fans the 2nd annual event was another great success! The Sioux City Explorers donated a total of (30) Turkeys, which surpassed the (26) turkeys provided during the promotions inaugural year in 2011. This morning, (15) turkeys were delivered to The Salvation Army and another (15) provided to Goodwill Industries Wall Street Mission here in Siouxland.
"Goodwill is extremely proud to be associated with the Sioux City Explorers and the second annual Tickets for Turkey promotion. Over 15 families will be brought together in the spirit of Christmas thanks to this generous gesture! Strengthening families is what goodwill is about and this partnership helps us in our mission work," comments Goodwill Industries Wall Street Mission Vice President of Development, Sonny Kellen.
"I would like to first and foremost thank our fans whom helped make this special promotion a success for a second straight year. To know that together we were able to provide a holiday meal to 30 families in need during the holiday season is a great feeling," stated Sioux City Explorers General Manager, Shane Tritz. "We look forward to continuing our season of giving campaign as we enter our 20th season in Siouxland in 2012."
2012 SEASON TICKETS ON SALE NOW BY CALLING 712-277-WINS (9467
|
Back to index...