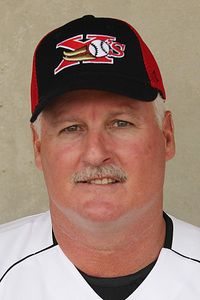 SIOUX CITY, IA – The Sioux City Explorers announced today that they have signed Field Manager, Stan Cliburn to a contract extension to lead the X's in 2012.
"We feel the future of Explorers baseball in Sioux City is bright as ever and will continue to grow at a rapid pace under the direction of Stan. We are very confident in his ability to put some quality players on the field, while also assuring he and his and players are an even bigger part of the Siouxland Community." commented Explorers owner John Roost.
Under the direction of Cliburn in 2011, the X's finished the season with an overall record of 51-49 with a very impressive 31-19 record at Lewis & Clark Park, while narrowly missing out on a post season playoff spot. Stan's ability to develop players and build team chemistry was clearly on display during the 2011 season, a season in which the X's finished the season with a .290 team batting average (ranked 7th in the American Association) and a pitching staff that finished with a team earned run average of just 4.54, which ranked 4th in the 14 team American Association. His ability to acquire top-flight players prior to and during the season, while also being able to develop players on a day-to-day basis was the key to the on field success in 2011.
"After a successful 2011 first year campaign, we are very excited to know that Stan will be a part of our organization in 2012, as we enter our 20th season in Siouxland, commented Explorers General Manager Shane Tritz,"
Cliburn, who currently makes his off-season home in Jackson, Mississippi stated "It is a great feeling to know my Owner (John Roost) and General Manger (Shane Tritz) believe in me and support me and have agreed to pick up my option for the upcoming 2012 season, as we all work very well together as a team and the 2011 season was a building block for things we would like to accomplish on and off the field in 2012, stated Cliburn"
Cliburn is currently in town for an array of community events and the X's would like to extend an invitation to our fans, ticket holders, and corporate marketing partners to join us for a meet and greet with Stan Cliburn and the X's management staff this Thursday (September 29th) at 4th Street Sports Grill at 3:00 PM followed by joining our staff at the Promenade Cinema in downtown Sioux City to take in the baseball themed "Moneyball" movie at 4:00 PM.