08/25/2011 11:22 PM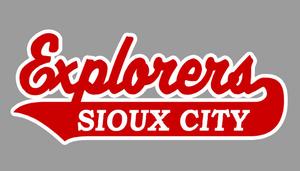 St. Paul, MN-----The Explorers were defeated 5-2 by St. Paul at Midway Stadium Thursday as the X's dropped their third straight to the Saints.
For the second straight night, the Saints took the early lead and never looked back. After scoring single runs in the first and second innings, the Saints scored twice in the third to take a 4-0 lead. The Explorers scored two unearned runs in the fifth, but Sioux City was limited to just six hits in the loss. Only shortstop Ryan Priddy with two hits had more than one hit for the Explorers.
David Trahan pitched a complete game, but suffered his second loss of the season. It was the third straight game that St. Paul had double digit hits as they had ten hits in the victory. With the loss, the Explorers chances of getting into the playoffs are now slim. The Explorers would have to win their final five games and Wichita and Gary Southshore would have to lose their final five for the Explorers to make it to the playoffs.
The Explorers will close out the four game series at St. Paul Friday with game time set for 7:05. Sioux City will finish the regular season at home with a four-game series with Lincoln starting on Saturday at Lewis and Clark Park.
|
Back to index...