08/19/2011 10:52 PM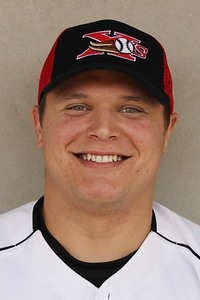 Sioux City-----Wally Backman, Jr. hit a three-run inside the park home run in the seventh inning as the Explorers snapped a three-game losing streak in defeating Sioux Falls here Friday 4-1.
With two outs in the seventh, Backman hit a line drive to left centerfield that Reggie Abercrombie may a dive for, but failed to make the catch as the ball rolled to the fence. By the time the Pheasants were able to get the ball to home plate, Backman had slide across with the inside the park home run and the Explorers had broken a 1-1 tie to take the lead at 4-1. It was a scoreless game until the sixth when the Explorers scored an un-earned run as Backman reached first on an error and later scored on a single by Kent Sakamoto. However, Sioux Falls tied the game at 1-1 when the Pheasants scored an un-earned run in the seventh. That's when Backman hit the inside the park home run, one of the most exciting moments in baseball.
David Trahan pitched 7 2/3 innings to pick up his fourth win of the season while Emiliano Fruto worked the final inning and one third to record his 11th save of the year.
The second game of the series between the Explorers in the I-29 rivalry will be played Saturday at Lewis and Clark Park with game time set for 7:05.
|
Back to index...