06/12/2018 9:49 PM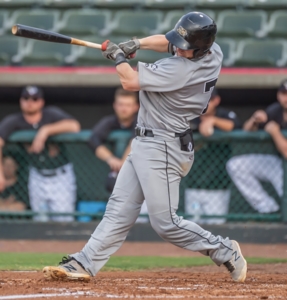 T-BONES HOMERS AND PITCHING SHUT DOWN X'S
Kansas City, KS - The Kansas City T-Bones shut out the Sioux City Explorers 6-0 thanks to a great outing from their starting pitcher and by clubbing 4 home runs.
T-Bones starter James Buckelew (1-0) picked up the win tonight with an excellent start that saw him go 6 shut out innings, allowing only 2 hits, striking out 3 and walking only one. Buckelew is usually a bullpen arm as he just joined Kansas City not too long ago and has appeared for the T-Bones twice out of the pen. But tonight made his first start with the team and made a big impact.
He got help from his teammates who ended up smacking four home runs off of Explorers pitching.
The T-Bones got it started in the second inning when Zach Walters and Cal Towey lead off the second with back to back homers making it 2-0 Kansas City.
They scored again in the third when Dylan Tice who reached on a fielders choice scored from second on an error by X's second baseman Jose Sermo. Giving the T-Bones a 3-0 lead.
The X's threatened in the fourth inning when Michael Lang lead off with an infield base hit and Nate Samson followed with a base hit to right center with Lang going first to third on the play. But Jose Sermo would pop out to shallow right field, not deep enough for Lang to tag and score. And then Jay Baum followed by grounding into an inning ending 5-4-3 double play.
Kansas City went deep again in the 5th, Tucker Pennell hit his first of the year over the left field wall, a 2-run shot to give the T-Bones a 5-0 lead.
All three of those homers came off of X's starter Luis Mateo who went 6 innings tonight for Sioux City allowing 5 runs, 4 earned, on 7 hits, striking out 5 and walking none. He had previously in his first five starts of the season given up only 2 home runs but served up 3 long balls in the game.
Sioux City threatened in the eighth when they loaded the bases. Dylan Kelly singled, David Kerian walked and Luis Durango singled to load the bases with only one out. But Michael Lang struck out swinging and Nate Samson hit a hard sinking liner to left but right at Dexter Kjerstad who made the catch to shut down the chance at a rally for Sioux City.
Adrien Nieto hit the fourth home run of the game for Kansas City off of X's reliever Geoff Broussard in the eighth inning giving the game it's final score 6-0 in favor of Kansas City.
With the loss Sioux City was shut out in a nine inning game for the first time this season and the first time since July 13, 2017 when they lost to the Winnipeg Goldeyes 12-0.
The X's have now finished the first quarter of the season with a 19-6 record and find themselves on top of the American Association. But they failed to become the team that reached 20 wins the quickest in a season as they will look to tie the 2015 team with that mark on Wednesday in game 26. That game will begin at 11:05 AM and feature a pitching matchup of James Dykstra for Sioux City and Tommy Collier for the T-Bones.
|
Back to index...